If you've ever tried to photograph and share your recipes, you probably know that getting your food to look delicious, induce hunger and inspire your audience to hop into the kitchen is not as easy as it sounds.
Taking the time to style your plate and applying a little charm in the food styling department can go a long way towards a more appetizing photo.
But how can you create an image that looks natural, casual and delicious?
Well, let's break it down into three simple steps:
1. Be a Minimalist:
Starting with less food than you normally would will help you build a more interesting visual. I usually build the food on set looking through my camera (or laptop when shooting tethered) and add elements as I see fit, without overcrowding the plate to give myself the chance to add more interesting ingredients later on.
2. Get Messy:
Don't be afraid to create a little mess on set and allow food to spill over naturally. Use bread crumbs to add a more natural look, do a mix of strategically placed ingredients and random elements, I started carefully adding cherry tomatoes on top of my toast and then threw a bunch around and allowed it to fall off naturally.
Later on I slightly moved some tomatoes around, and switched places to make it look more interesting, I was feeling the left corner had too much red in it (What?! There is no such thing as too much red, c'mon Maha! haha).
Distributing color in your plate is totally up to you, I like to mix it up and keep changing things depending on my client, their recipes and style.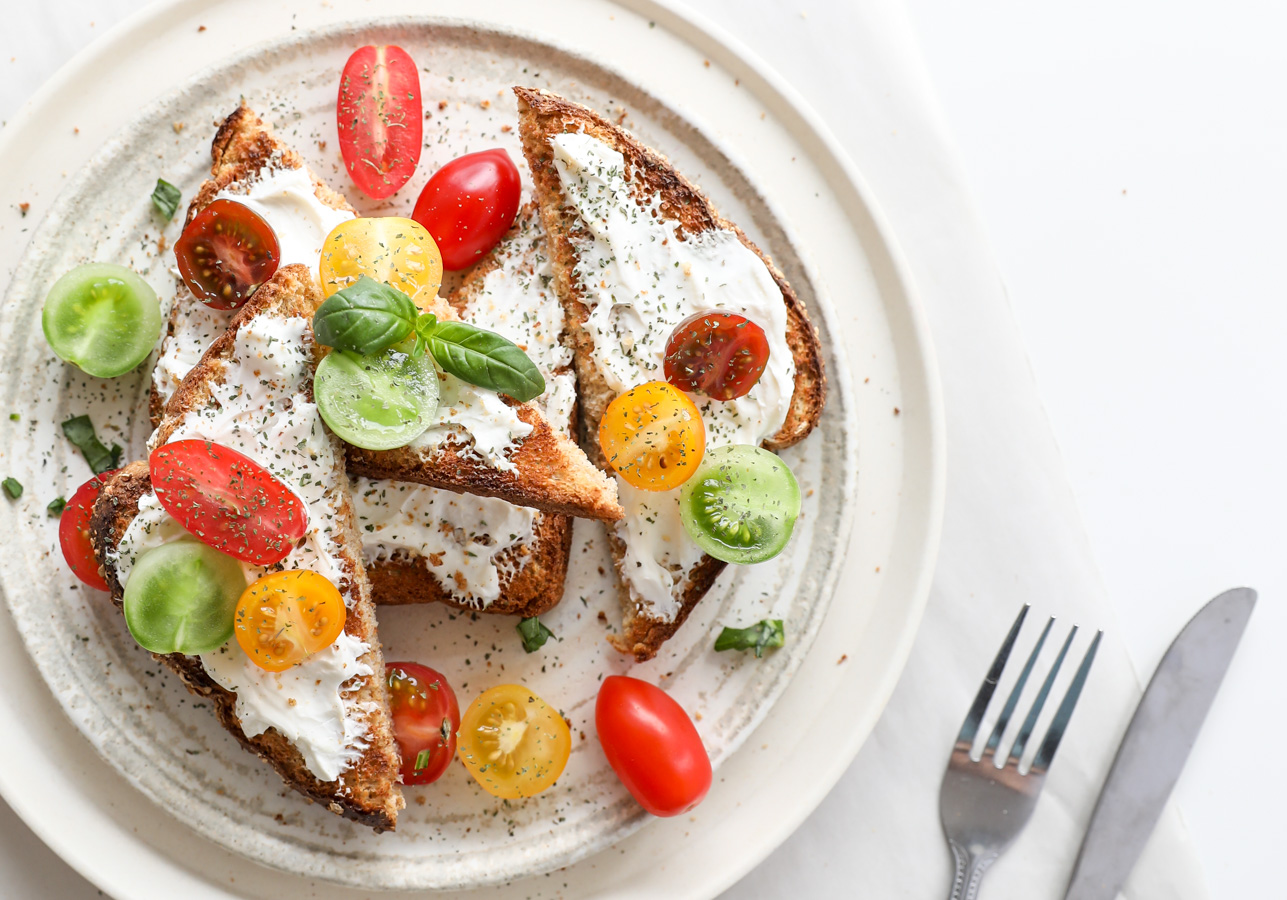 Allow food to spill over naturally
3. Create a Focal Point:
When things get a little colorful and messy, you need to direct your viewers' eyes towards a main point, this can be achieved by adding a point of interest. In this case I added fresh basil leaves to grab my viewers attention and create a hook.
Like everything else, you can become a better Food stylist by practicing on a daily basis, looking at other food photos, observing styles and trends to get inspired. And make sure you check out my favorite "Pancake Stack" photo and get the scoop on how I styled that image here.
Now it's your turn, what's your favorite Food Styling tip and do you have and trick you'd like to share? Let me know in the comments below.
Feel free to hit me up with your questions and stay tuned for next week's episode of #AskMahaMonday!
Love,
Maha